How We Will Get There: The Dynamic Nature of the Federal Data Strategy
A Framework for Consistency & Annual Action Plans
The FDS describes a 10-year vision for how the Federal Government will accelerate the use of data to deliver on mission, serve the public, and steward resources while protecting security, privacy, and confidentiality. The FDS includes a mission statement, ten operating principles, and a set of 40 best practices to guide agencies in leveraging the value of Federal and Federally-sponsored data. The mission statement, principles, and practices are presented in final form in M-19-181, and additional detail regarding their development can be found at strategy.data.gov. All Executive Branch agencies (hereinafter "agencies")2 will implement the strategy through annual government-wide Action Plans (hereinafter "Action Plans"). Action Plans will identify and prioritize practice-related steps for a given year and build on progress from year to year, which will allow for focused, measured progress, along with opportunities to improve and adapt plans. Action Plans will also align with ongoing Federal Government programs and policies and will complement statutory requirements3.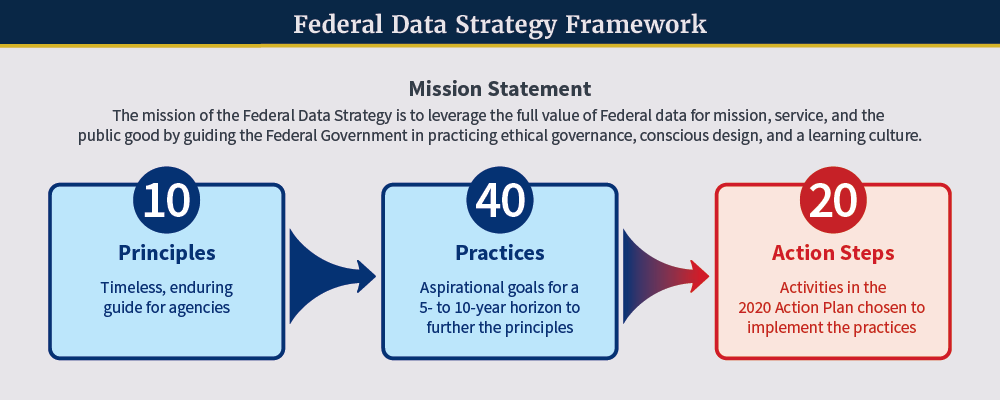 Each annual Action Plan will consist of actions that incorporate one or more of the 40 practices outlined in the strategy. This 2020 Action Plan specifies 20 measurable actions that agencies will take during the first year of implementing the strategy that support foundational steps to implement the FDS practices.
Collective Resources, Continuous Learning, & Constant Feedback
To further support agencies in executing the FDS, the FDS team has identified opportunities for collective resources, continuous learning tools, and stakeholder feedback opportunities including:
An online repository of policies, standards, tools, best practices, and case studies, known as Federal Enterprise Data Resources and located at resources.data.gov, has been established to provide centralized access to resources related to Federal data management and use;
Resources and "proof point" examples to incubate small data projects within agencies including, the GEAR Center, the Incubator Playbook (a collection of tools available to agencies for data incubation projects), and a body of crowd-sourced use cases and "proof points";
Companion resources to implement every Agency Action step; and
Shared Solution Action steps to prototype calls for platforms needed to implement the FDS.
How the 2020 Action Plan Supports Other Data-related Requirements
The strategy is designed to serve as a framework for consistency that harmonizes the ways agencies address the many laws and regulations that govern how agencies manage and use data. The graphic below depicts the dynamic environment of the strategy, capturing the external influences—such as laws and executive orders, stakeholder input and user needs, and new technologies—that generate agency activities undertaken in response to statutory requirements, OMB guidance, and policies reflected by government-wide priorities. An annual Action Plan, designed to guide agencies in implementing the strategy, will be released each year and incorporate new laws, requirements, and priorities that will impact Federal agencies' capacity to leverage data as a strategic asset.

The Action Plan is designed to guide agencies as they work to meet a wide array of legislative and policy requirements. In particular, the 2020 Action Plan incorporates requirements of the Foundations for Evidence-Based Policymaking Act of 2018 (hereinafter "the Evidence Act"), the Geospatial Data Act of 2018, and Executive Order 13859 on Maintaining American Leadership in Artificial Intelligence. Because the governing laws vary in scope and applicability, the actions described in this policy document below, differentiate between actions that are mandatory and those that are strongly encouraged. This 2020 Action Plan seeks to do more than compliance, instead providing strategic guidance to agencies in planning their optimal implementation approaches, while filling key gaps to support more robust data management and use across the Federal Government.
This first annual Action Plan establishes a solid foundation that will support the implementation of the strategy over the next decade. Specifically, this 2020 Action Plan identifies initial actions for agencies that are essential for establishing processes, building capacity, and aligning existing efforts to better leverage data as a strategic asset. In addition to actions required of each agency, the 2020 Action Plan includes a series of pilot projects already underway at individual agencies and a set of government-wide efforts that are designed to support all agencies during implementation of the strategy through the development of tools and resources.
Structure of the 2020 Action Plan
The 2020 Action Plan is designed to be cross-cutting and to support agencies in fulfilling a wide array of legislative and administrative requirements, while also prioritizing foundational activities for agencies in developing a mature data asset management environment. As part of the first-year implementation of the strategy, OMB will work with agencies through new and existing forums to support agencies and promote progress.
The 2020 Action Plan includes 20 actions broken into three distinct categories: Agency Actions, Community of Practice Actions, and Shared Solution Actions.
6 Agency Actions are executed by each agency and are designed to advance each agency's ability to fully leverage its data as a strategic asset. Agency Actions set expectations for progress and success in implementing the strategy by building a foundation for the management of data throughout the lifecycle within agencies. Implementation guidance will be routinely updated on strategy.data.gov, and resources to support implementation will be regularly posted to the repository at resources.data.gov.
4 Community of Practice Actions are taken by a specific group of agencies around a common topic, usually through an established interagency council or other existing coordinating mechanism. Community of Practice Actions seek to integrate and coordinate ongoing efforts related to existing laws, regulations, and executive orders that are particularly relevant to the strategy.
10 Shared Solution Actions are distinct projects or efforts that are led by a single agency or existing interagency council for the benefit of all agencies. Shared Solution Actions provide government-wide thought leadership, direction, tools, governance, and services for implementing the strategy that can be leveraged by all agencies. Many of the Shared Solution Actions have received financial resources as part of the CAP Goal: Leveraging Data as a Strategic Asset4 and are already underway.
For each action, the 2020 Action Plan includes: a description of the desired result of successful execution of the action, the identification of an entity responsible for executing the action, a set of metrics for measuring progress during the first year, and the expected timeline for completion of the action.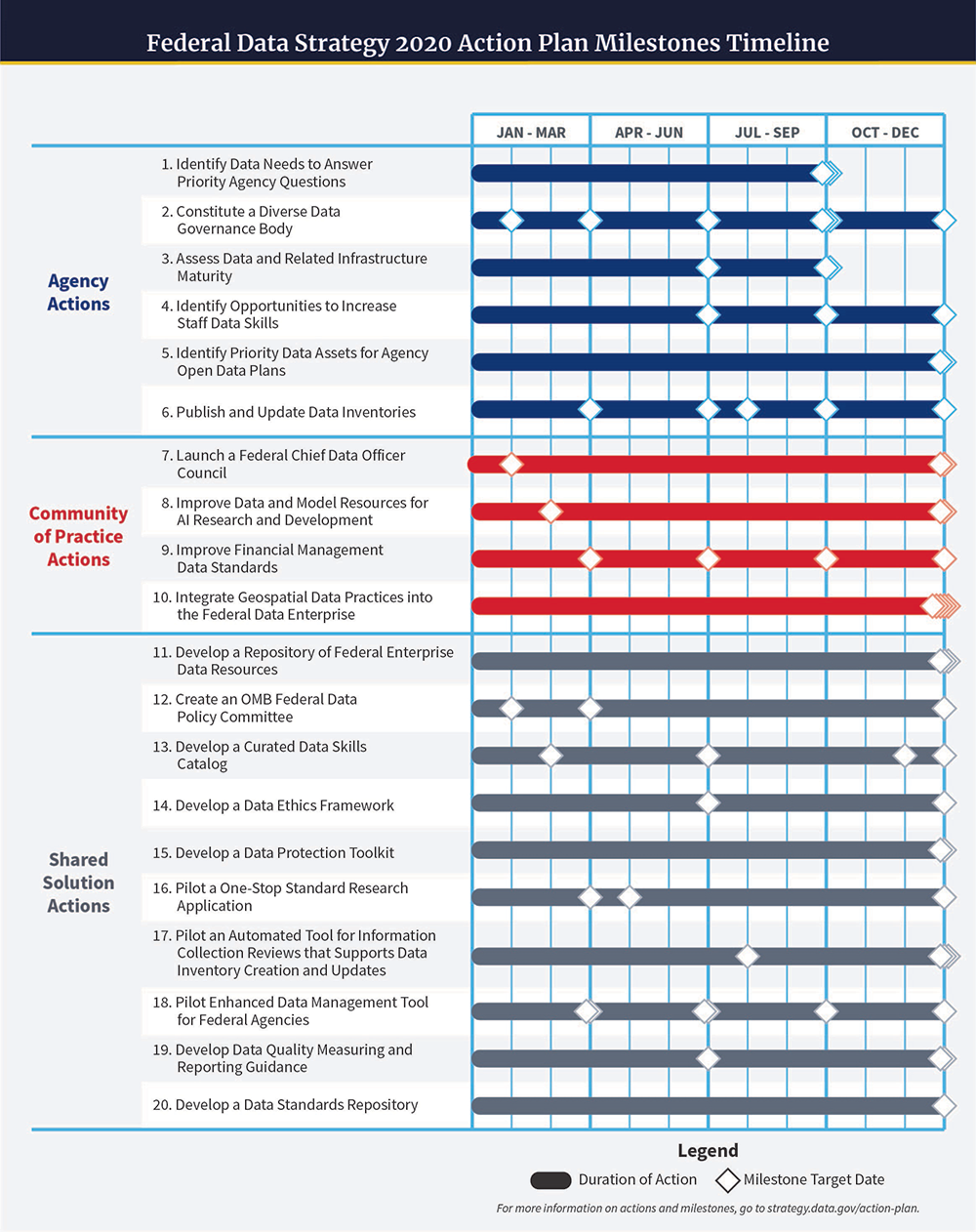 Footnotes